Victory North of the Border
vdl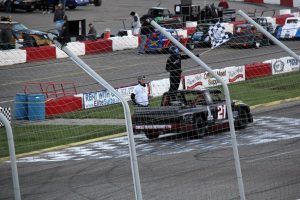 Kade Thompson and Rob Janzen of Octane Motorsports in Saskatoon, Canada needed that final piece to the puzzle of building a winning race truck . . . so they called VDL. We'll let them tell the story . . .
Hi VDL!
I had you folks build me a 500 cfm 4412 Holley carb for my metric chassis Pro Truck that I race at Wyant Group Raceway in Saskatoon, Canada. I've run a few practice sessions and two race meets on the new carb now, and I would like to pass on my positive customer satisfaction to you!
Both Dan and Linda were so easy to work with and willing to talk to on the phone to come up with the best application for our built Dodge 340 engine. I love the quality of work and attention to detail in your product. I've noticed some good improvements in throttle response and clean power!
Last night was the best night of racing I've ever had! We qualified 2nd, finished 3rd in both heat races and went on to win our first feature race!!
At the end of the night, our tech director asked us to remove the carburetor from the top 5 trucks for a complete carb inspection. (Not a common night occurrence.) His feedback to us was that our carb passed with flying colors and by no means was a concern on his list whatsoever. I could not be more happy with that response!
Right now, your VDL carburetor is a secret weapon in the back pocket for myself and Rob Janzen, so we haven't announced it to other drivers or on our social media pages, but I felt strongly compelled to write you a heart felt testimony, from one of your happiest customers in the north!
Thank you again,
Kade Thompson
Octane Motorsports